16 July, 2015
What Does a Tiny Port in Pakistan have to do with Chinese-Indian Relations?
According to reports coming from workers in Gwadar port, near the Pakistani-Iranian border, the Chinese construction of the port have brought the port to the level of advanced commercial activity. A recent visit to the port of a delegation headed by a senior Chinese official, Lin Dajian, shows that the regional superpower is aiming to advance its presence in the Indian Ocean Region on India's expense.
The Navy of the People Liberation Army (PLAN) was built in 1950 after the Chinese civil war. It presented no serious operational capabilities until the mid-1990s, and until 2008, PLAN ships were not seen outside of the East-China Sea. It was only in 2008, when the Chinese began partaking in the international efforts to mitigate the piracy in the Persian Gulf, when PLAN ships began expanding their presence in the Indian Ocean Region (IOR).
As well as seeking to protect critical sea lines of communication across the Indian Ocean, along which it ships natural resources home to its population as well as transporting their products to market, experts believe that China may be seeking to expand its presence in the Indian Ocean to offset the political-military constraints it faces in the Pacific Ocean region given the increasing US focus on that region and the existence of a number of territorial disputes with countries such as Japan, the Philippines, and Vietnam.
The recent spurt in Chinese naval exercises in the Indian Ocean, however, has led to whispers of a more pre-emptive PLA-N strategy. A string of naval deployments – including one with the 20,000-ton amphibious ship, the Chengbaishan, and another involving a nuclear submarine – has provided evidence that Beijing has its sights set on dominating the Indian Ocean. As a consequence, Chinese maritime basing in the Indian Ocean is no longer a strategic contingency to be taken lightly.
Adding to the tension in the IOR, a news report appeared in the Namibian in November 2014 alleging the existence of Chinese plan for naval bases in the Indo-Pacific region and the west coast of Africa. It is speculated that the report borrowed liberally from a commentary in a Chinese state-controlled news portal in February 2013 that advised the PLAN to build overseas bases and protect its energy line in the Indian Ocean. The commentary suggested a methodology for acquiring the facilities. Access to fixed supply bases – it said, could be gained by signing short-term or medium-term agreements, while the "fully functional centers" in Pakistan and other IOR states needed medium-and long-term MoUs.
It is the possibility of Chinese dual-use bases in the IOR that deserves the most attention. A commercial facility with low-level logistical support capability, a dual-use base is a risk-free way of establishing maritime presence in a region of interest. In 2013, Beijing is said to have expressed an interest in such a facility at Gwadar, thus validating claims that China may be looking for a low-level military presence in the IOR. Modern dual-use maritime facilities aren't completely benign assets. As a recent US National Defense University report pointed out, a powerful nation like China has the ability to upgrade a commercial port to support military operations in conflict scenarios, and even use it as a cover for construction of secret munitions stockpiles and other port infrastructure. It is possible, therefore, that Beijing might be contemplating agreements that offer it the right to properly militarize dual-use facilities in times of conflict.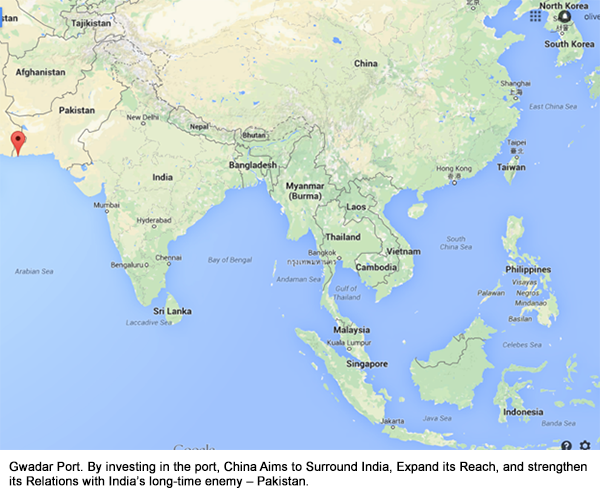 Gwadar Port from a Deep-Web Point of View
China Overseas Ports Holding Company Limited, COPHC has taken over the command of recently developed Gwadar Port and Gwadar Free Zone on May 16, 2013 for 40 years (as per the concession agreement). The declared objective of the company is "to develop the region's most strategically well located port into a hub of maritime trade in the whole region, including landlocked Central Asian Region (CAR), in general and of Pakistan in particular." COPHC Pakistan is a branch company of COPHC which is , It has registered its Regional Office in Pakistan.
A deep web search has brought up a Facebook group of Gwadar Port Authority. In the group, workers of the port post updates concerning its development. The group manager is called Şhäbbîř Şâďìq, who works at the port. Sadiq constantly uploads photos and updates from the port to his own profile and to the group. In order to extract more information from Sadiq.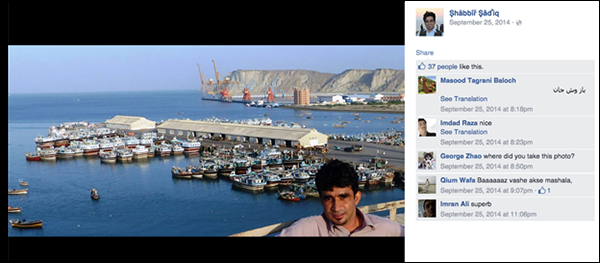 First commercial containerized cargo shipment of seafood export through a Chinese ship – M.V. Zi Jingsong held today (11-05-15) The event was attended, by Federal Minister Ports and Shipping, Senator Kamran Michael, Balochistan's Minister for Fisheries, Mir Akbar Askani; Federal Secretary Ports and Shipping, Khalid Pervez; Chairman Gwadar Port Authority, Dostain Khan Jamaldini; Chairman District Council, Babu Gulab; Chairman Municipal Committee, Abid Rahim Sohrabi; CEO M/s China Overseas Ports Holding Co. (COPHC); Managing Director M/s China Overseas Shipping Co. (COSCO); representatives of Gwadar and Federation of Pakistan Chambers of Commerce and Industry; Collector Customs; high officials and local business community".
From the report we learn that Gwadar port has already reached a high level commercial functionality, which serves a crucial part in PLAN's maritime expansion strategy.
On December 2014, Sadiq uploaded a photo of a high ranked Chinese delegation, which visited the port: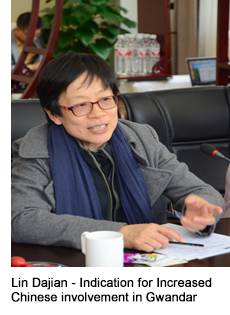 "A 32-member high level Chinese delegation headed by Madam Lin Dajian, Deputy Director General, Department of International Cooperation of National Development and Reform Commission (NDRC) of CPEC Gwadar Working Group visit Gwadar & Gwadar Port as part of Pakistan's three day visit to participate in the plenary session of JWG to discuss and exchange views on a number of development projects being executed under (CPEC) Gwadar Package. CPEC Gwadar Package consisting of nine infrastructure and one recently agreed Memorandum of Understanding (MoU) on the integrated social sector planning and development of Gwadar region. These projects include construction of Gwadar Port Eastbay Expressway with an estimated cost of Rs.14.804billion; construction of Pak-China vocational training institute with an estimated cost of Rs.984million; facilities of fresh water treatment, supply and distribution of water for Gwadar City costing Rs.13.22billion; 300-bed China-Pakistan friendship hospital with an estimated cost of Rs.9.96billion; construction of New Gwadar International Airport of Rs.26.70billion; construction of breakwaters for Gwadar Port with a cost of Rs.13.00billion; capital dredging for additional channels, turning basin alongside new terminal, costing Rs.2.80billion; 300MW coal-based power plant with an estimated cost of Rs.30.00billion in addition to infrastructure development for free zone, export processing zone and Gwadar industrial area."
From the post, it is clear that China is promoting its dual-use base strategy in Gwadar port through MoUs, and plans to expand its presence in the region by building a Chinese-Pakistani Vocational training institute in Gwadar. Even more of an indication to China's involvement in Gwadar is the fact that Lin Dajian, former Chinese Government Director of the International Department of the National Development and Reform Commission, who has been thoroughly involved, among other things, in Chinese-Indian commercial relations, has led the visit to Gwadar.
In conclusion, over the past months, Gwadar port has witnessed an increased Chinese involvement. By promoting the construction of Gwadar port, the Chinese may hope to achieve two main goals: 1. Stretching China's maritime presence in the region to its limits, having ports on both of its ends. 2. Surrounding India, China's main regional rival, all the while strengthening its ties with India's bitter enemy – Pakistan.